Italy on a Vespa. Picture it with me for a moment…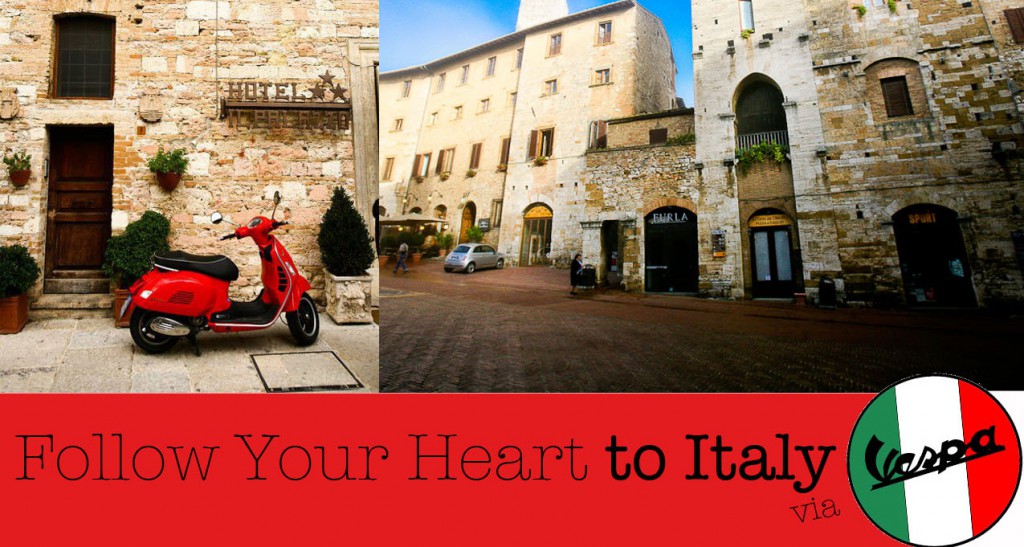 We will spend the entire week driving around on Vespas, and see the highlights of the Umbria region with a new destination every day, avoiding the freeway or fast roads…so we can take in the sceniec Italian countryside.
A guided tours in the UNESCO World Heritage city, Assisi, marveling at the Basilica and the medieval city center. Wandering  and scooting from one other Umbrian town to the next – Spoleto, Trasimeno Lake, Spello and Montelfalco and others.

But it doesn't end there. We will have a cooking class and learn some wonderful Italian recipes to bring with us. We will enjoy a couple of lovely wine tastings + a farewell dinner to cap it off.
This is a Travel Experience, truly, unlike any we have done. And we are absolutely smitten with it.
We offer it this coming June 5-12 as well in the fall (can you imagine the scenery then!?!) from Sept 23-30.
We only need 5 for this group to take off into the Italian sunset. Contact me today to reserve your Vespa!
xxtracey
– – – – – – – – – – – – – – – – – – –
For more info on this next year's great Travel Experiences & RoadTrips to Morocco, Turkey, Portugal, Spain and more awesome destinations, check it out on our website!
Have a look and contact us to save your place on one of these great trips!
Social Share