Assisi. A medieval Francisan commune in the heart of Umbria.
Known for being the birthplace of the St Francis who founded the religious order in 1208, it has also been declared as aUNESCO World Heritage site. (Can I JUST say that I LOVE that all my Follow Your Heart Travel Experiences and GO LOCAL! RoadTrips always include UNESCO World Heritage sites? Ya, I love it!)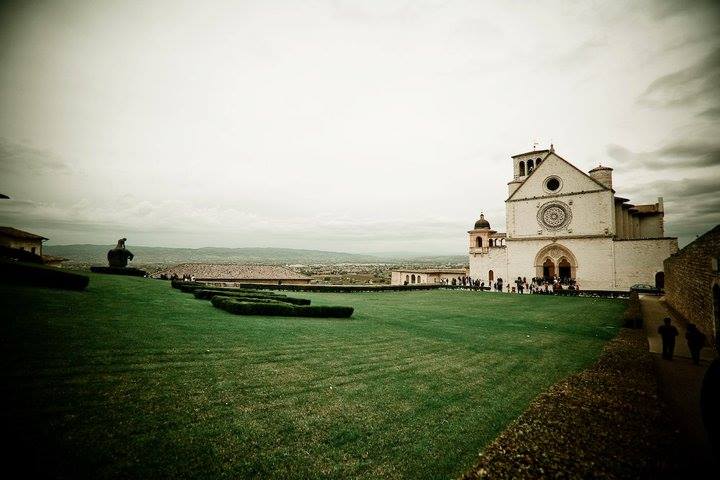 It started out as a typical autumn day – crisp air, sunny spots and clouds dispersed throughout the sky, tourists lining up to see inside the infamous basillica. Personally, as much as I love seeing churches, I was looking forward to WANDERING these amazing streets!
As with most of the communes and villages in Umbria, they are within old medieval walls, and that means you park outside the walls and walk in. It's really cool. Although sometimes parking can be challenging in more popular areas that tourists go!
The buildings and streets – absolutely breathtaking. I could have stayed here for days.
Then we went off the beaten path, as photographers are known to do, to get away from the crowds and find the heart and local feel of this town.
I just love the walkways, with all the masonary – so gorgeous and intricate.
Then I saw Nonna. I smiled at her and she began talking to me in Italian. Oh, I wish I knew what she was saying!! I motioned to my camera, after we had been in "conversation" for a few minutes, to get her permission to take her photo. She smiled and posed:
Seriously. Is she not the most lovely Nonna you have ever seen???? 🙂
Onwards we continued walking to another quiet area where there were turns and twists and buildings and churches older than I had seen yet in Italy.
Then it was time for lunch so we made our way to the main piazza where the shops and people were…
Ah, yes…Beautiful Assissi. <3
 – – – – – – – – – – – – –
Make sure you are signed up for our TRAVEL NEWS UPDATES that are delivered to your inbox 1-2 times a month to keep you up on the latest here at Follow Your Heart Travel Experiences.
You can sign up HERE.
 – – – – – – – – – – – – –
Social Share