ait ben haddou
,
casablanca
,
chefchaouen
,
Cooking lesson
,
essaouira
,
fes
,
follow your heart travel experiences
,
gnaoua
,
gnaoua music
,
gnawa
,
go local roadtrip to morocco
,
marrakesh
,
meknes
,
merzouga
,
moroccan
,
moroccan cooking lesson
,
moroccan mint tea
,
morocco
,
morocco expert tours
,
Morocco Real Travel Experience
,
morocco travel
,
morocco travel experience
,
ouarzazate
,
rabat
,
riad cesar
,
sahara desert
,
Tracey Heppner Travels
,
Travel
,
travel experience
,
travel morocco
,
UNESCO
,
unesco world heritage site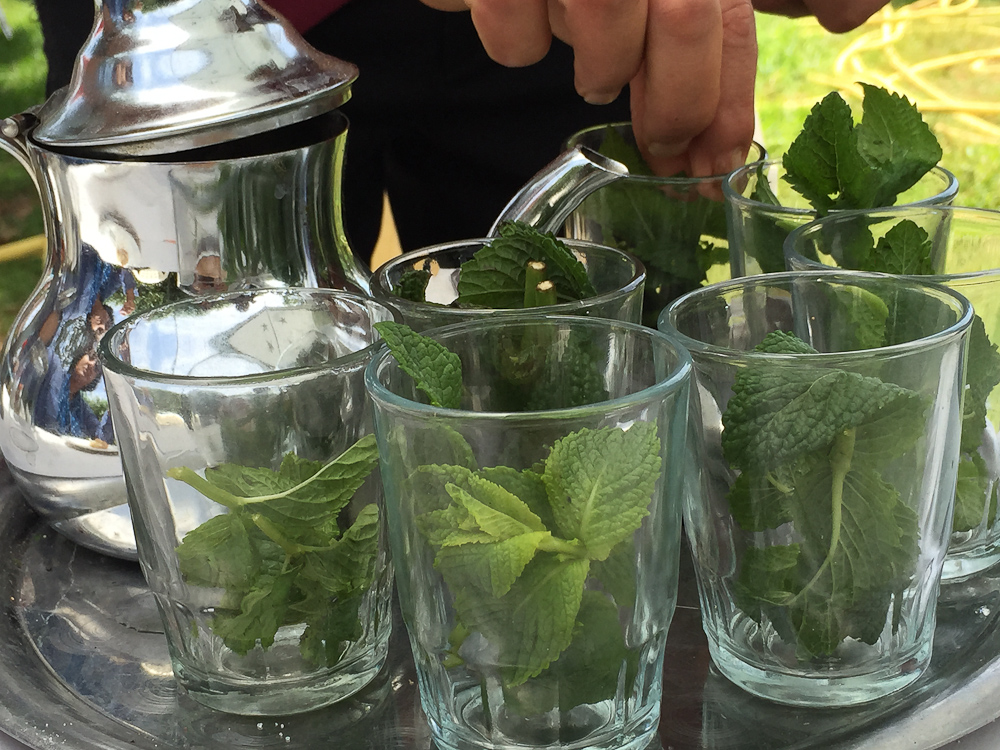 I had knows some of this "moroccan mint tea" before I first visited Morocco. But not enough to truly value it like I do now.
Some history:
Maghrebi mint tea (or in Berber: Atay), also known as Moroccan, Bedouin, Algerian, Tunisian, or Libyan mint tea, is a green tea prepared with spearmint leaves and sugar, traditional to the Greater Maghreb region (the northwest African countries of Morocco, Algeria, Tunisia, Libya, and Mauritania). It has since spread throughout North Africa, parts of the Sahel, France and the Arab world. It is most closely associated with Morocco and in Spanish is known simply as "Moroccan tea", té moruno.
Mint tea is central to social life in the Maghreb. The serving can take a ceremonial form, especially when prepared for a guest. The tea is traditionally made by the head male in the family and offered to guests as a sign of hospitality. Typically, at least three glasses of tea are served, and it is considered impolite to refuse it.
It is also known as Berber Whiskey. I liked that name better. 😉
We had it at restaurants, and hotels…we had it upon arrival in Morocco, we had it in the desert at a nomads tent in the Sahara. It is truly a staple in Moroccan life and plays so many parts.
To Moroccans, Moroccan tea stands for generosity and hospitality. Spend just a few hours in Morocco, and Moroccans will make you feel the sense of generosity and hospitality through tea. Everyone you will pass in villages or in towns will beckon to you to come in for a cup of tea.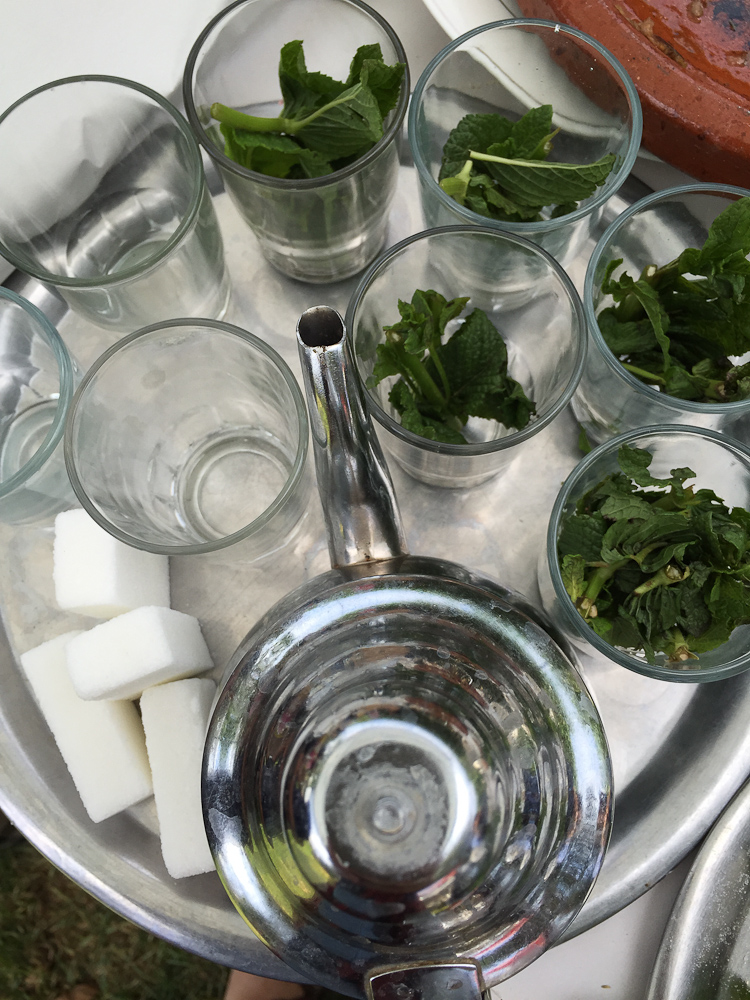 The simple way it's prepared:
In a teapot, combine two teaspoons of tea-leaf with a half litre of boiling water. Allow it to steep for at least 15 minutes.
Without stirring, filter the mixture into a stainless steel pot, so that the tea leaves and coarse powder are removed.
Add sugar (about one teaspoon per 100 ml).
Bring to boil over a medium heat (this helps the sugar dissolve).
Fresh mint leaves can be added to the teapot, or directly to the cup.
Now you can make it at home and welcome guests into your abode with a little Moroccan culture!
Traditionally, the tea is served three times. The amount of time it has been steeping gives each of the glasses of tea a unique flavor, described in this famous Maghrebi proverb:
Le premier verre est aussi doux que la vie,
le deuxième est aussi fort que l'amour,
le troisième est aussi amer que la mort.

The first glass is as gentle as life,
the second is as strong as love,
the third is as bitter as death.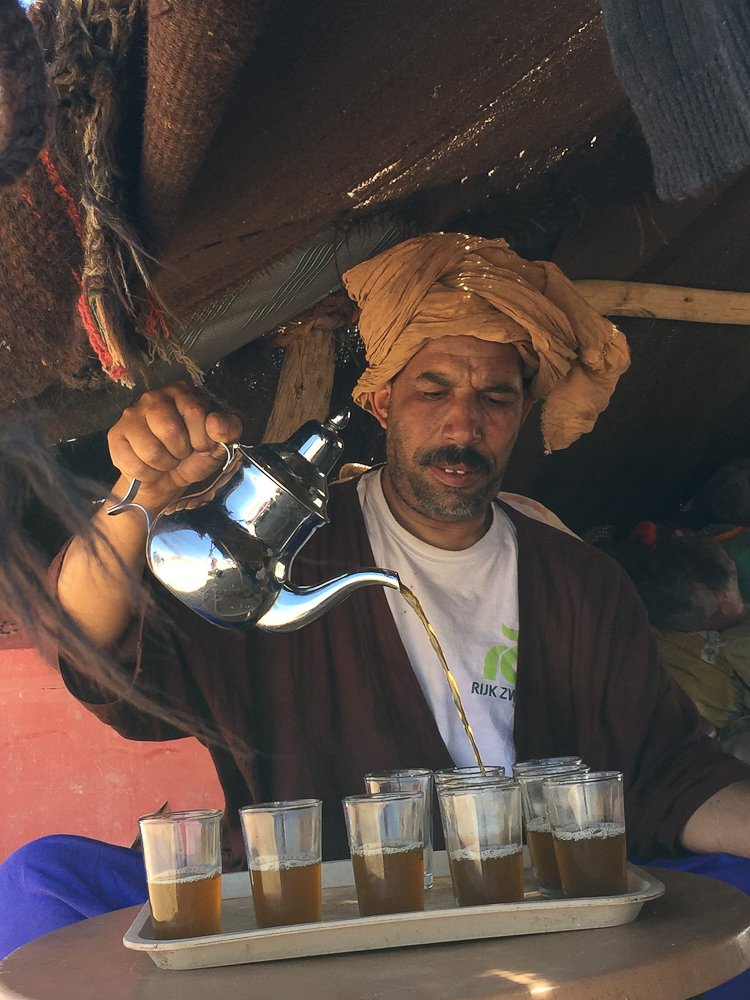 Here I am being served by this Desert nomad. You can see the video clip I shot HERE.
Morocco Mint Tea. I am almost out of my bulk bag I bought on my last trip – it must be time to go get more soon. 😉 Join me sometime in Morocco – whether on a small group travel experience or with your own group at any other time…Morocco has so much to offer and enrich your life with.
xxtracey
————-
For more info on this years great Travel Experiences & RoadTrips to Morocco, Turkey, Portugal and Spain, check out our website!
**Our OLD VILLAGES of Turkey Itinerary is next up in July from the 16-27th. Join us!**
Make sure to sign up for our Travel Newsletter – It's about once or twice a month and keeps you up to date on the latest at Follow Your Heart Travel Experiences. 
Plus you get a $50 off by just signing up! You can sign up HERE.
Social Share