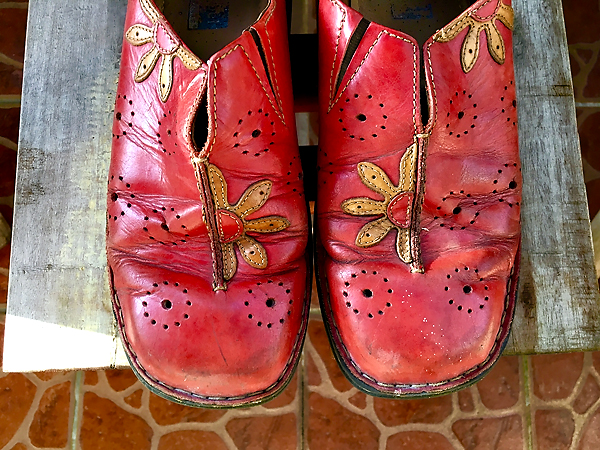 We love shoes. They make an outfit. They are part of our personality.
Yet…when we travel, we can't bring ALL of them. And they also have to be versatile enough for many types of outfits.
So what do I bring, the one who travels with just a carry-on? I'm glad you asked. 😉
How many pairs?
I usually bring 2 pairs. One "clunkier" than the other, which I wear on the plane, lest my bag has more room. The shoes I bring go with all my outfits I strategically plan and bring (you can check out THAT post here).
As much as I would love to bring my most fashionable, I don't…and my feet love me for it. 🙂 I figure if my outfits are planned, the feet are the last thing people look at, really. 🙂
What Season?
Depending on the time of year will greatly affect what shoes you bring.
For the warmer months I bring a pair of slip on sandals I purchased in Morocco last year, that STILL, amazingly, are going strong! (I wish I bought another pair for when these ones decide to bite it!) and I bring my Merrell's – good for light hiking and when I want a sure footgrip. Both keep my feet cool (something I can't handle is hot feet!). It's important to wear shoes/sandals that you can walk in lots. Both of these have proven to be awesome for me for walking lots.
For the cooler months, I use my red Josef Siebel shoes and my leather boots from Turkey. My red shoes are GREAT walking shoes. The boots, honestly, I bought because I don't wear boots in the tropics where I live (remember the hot feet thing?) and have them to change up the shoes and when it's slushy or rainy they are super helpful. They both are great walking shoes/boots for me.
Again – make sure your arch is supported to your foot – this is super important so you don't get foot pain. Foot pain while traveling SUCKS. So spend the extra $$ on shoes. ALWAYS.
Other people enjoy flat  while others like runners or light sneakers. Travel & Leisure has a great compilation of some of the best Travel Shoes HERE.
So tell me…what shoes do YOU bring?
xxtracey
————-
For More info on this years great Travel Experiences & RoadTrips to Morocco, Turkey, Italy, Portugal and Spain, check out our website!
Make sure you sign up for our Travel Newsletter – It's about once or twice a month and keeps you up to date on the latest at Follow Your Heart Travel Experiences. You can sign up HERE.
Social Share