I LOVE AIRBNB!
The first time I used it was with my friends in Istanbul in 2013 and haven't gone back!
I use it exclusively when I travel alone, before and after my Travel Experiences. I have even become friends with the one couple I stay with in Istanbul now. Their place is so central and so relaxing and beautiful: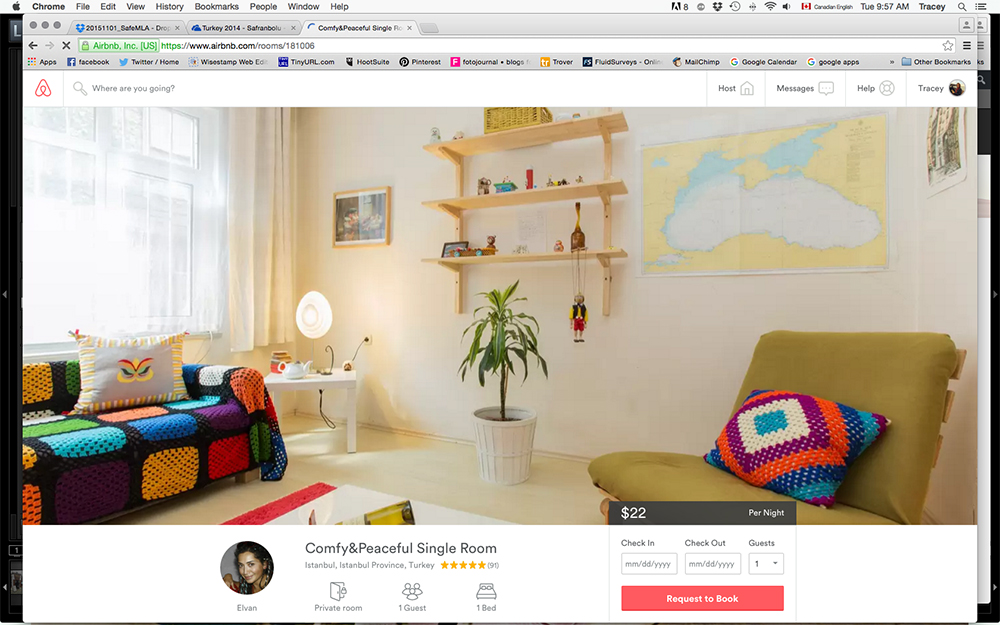 It gives me such an awesome experience to live with locals, shop where they do, and be in the communities they live in – something I treasure.
There is a little shop around the corner from the Istanbul Airbnb that I always go to – get my fresh bread, my tomatoes and feta cheese, olive paste and whatever else catches my eye. The man who owns it doesn't speak much English, but we get on quite well. I LOVE THAT.
In Casablanca I wasn't sure exactly where to go, how secure things were etc…but the place I used – I will definitely be back!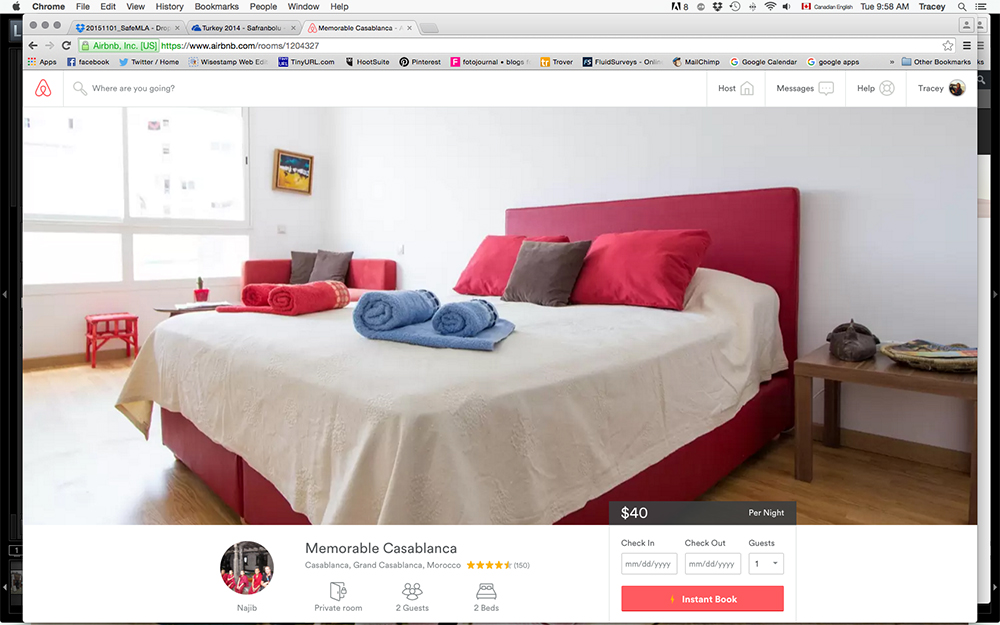 The prices are for the whole apartment! It's crazy. It's awesome. It's so not stressful at all!
I even book places for my guests on their Travel Experiences when I can. Like this amazing place in New Zealand, ON A GOLF COURSE. Hello. 🙂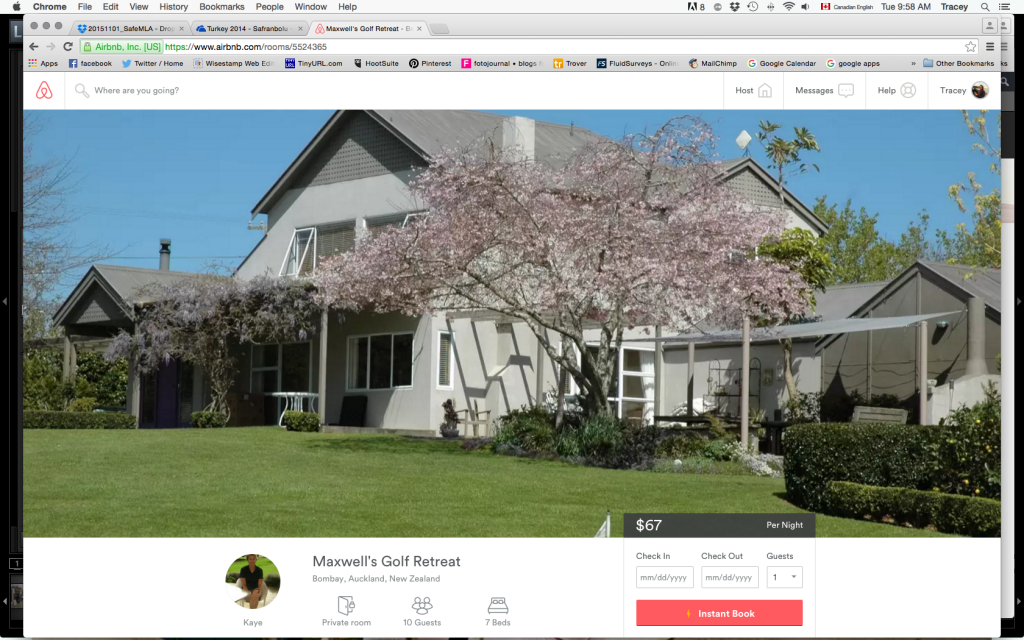 It's so nice to feel "at home" when you are traveling I think.
Each place has reviews – of the actual accomodations, of the person who is the owner. Go with this these as a major guide – the better the reviews, the better the place will be.
You can even host yourself if you want – we have done it before. We had a girl from Denmark visiting the Philippines and she stayed a week.
You make global friendships and that's really awesome.
I have an overnight in Auckland en route to Queenstown at the end of December – I found a cute little place that I shall lay my head: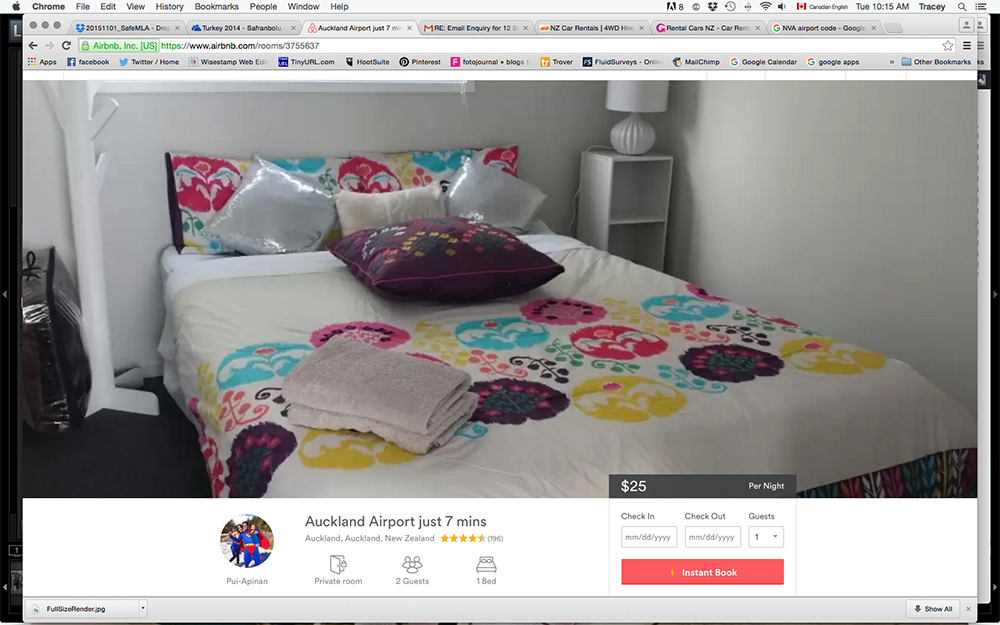 Every listing has all the amenities, the vicinity its located, do's and don'ts about the place, and other pertinent info. Sometimes they require 2 nights minimum. Sometimes not. Sometimes they have a cap as to the amount of people. It's all written on the page.
The calendar shows when its available. I highly recommend that if you know your dates for sure and you find THE perfect place, book it, especially in busy seasons. Sometimes waiting on it a day – you can lose it. 🙁
So Airbnb.com is the address and you should really check it out for your next travels. You may or may not like it. But you can say you did it. And you may be hooked. 😉
xxtracey
 – – – – – – – – – – – – –
Make sure you are signed up for our TRAVEL NEWS UPDATES that are delivered to your inbox 1-2 times a month to keep you up on the latest here at Follow Your Heart Travel Experiences.
You can sign up HERE.
 – – – – – – – – – – – – –
Social Share